What Is The Difference Between Dropshipping And Marketplace?
You must have heard of the dropshipping and marketplace model. What is the difference between dropshipping and marketplace? Quite simply, dropshipping is an e-commerce model. A marketplace is a platform. But nowadays, dropshipping, as an online retail sales method, is getting more and more attention from e-commerce business owners.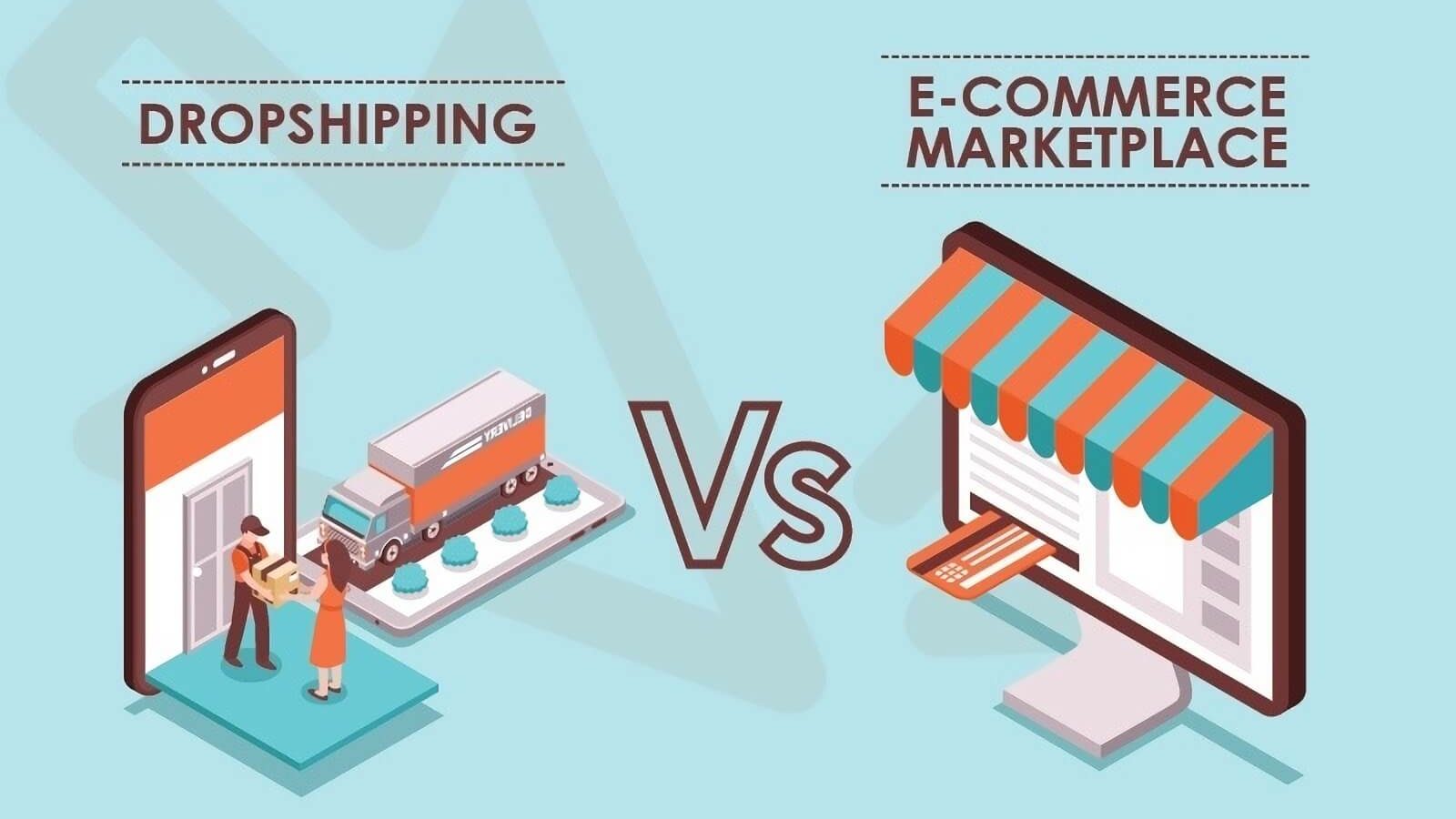 Why dropshipping is so popular in global business? Dropshipping and marketplace model, which channel is best for your brand and business? Please follow this page. Choose professional suppliers for your dropshipping business.
What is Dropshipping?
Dropshipping is an eCommerce fulfillment method primarily used in retail businesses. In the dropshipping model, there are basically only three roles: supplier, retailer, and customer. When retailers sell products, they take goods from suppliers or wholesalers and ship the products directly to customers.
This pattern is very common. The biggest convenience is that no inventory is required. So what is the whole process like?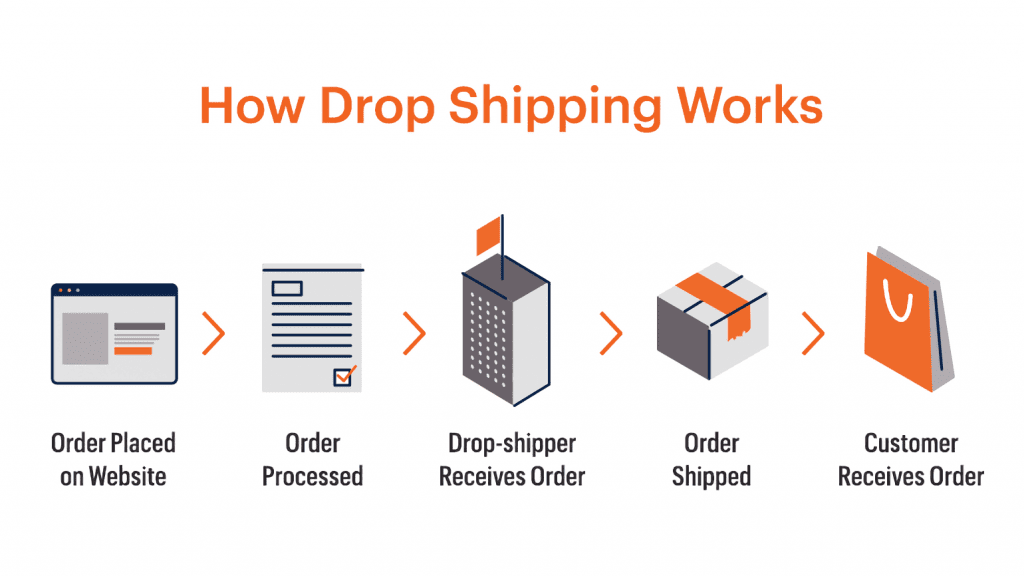 How does it Work?
Obviously, retailers earn the difference in this process.
They only purchase inventory from suppliers when there are orders, so retailers don't have any inventory pressure. Order fulfillment is passed on to third-party suppliers and product delivery times are guaranteed.
The Benefits of Dropshipping
We need to give an example to intuitively feel the benefits of dropshipping.
For example, in the traditional model.
You need start-up capital to start a business. Then you need to go to various channels to get the goods, which is a cost. You also need to spend on advertising and promotion. But the most worrying thing is that you have stockpiled a bunch of goods, and you have to continue to spend money to find warehouses for the products. Once the product you choose is not popular, or the promotion and conversion are not good, your goods will be unsalable, which will become pressure.
The dropshipping model does not have this problem.
You don't need to stock up. After the customer places an order, you go to the supplier to place the same order. This way the inventory risk is on the supplier, not you. This saves you the capital investment of getting and stocking up. In addition, the packaging and delivery of the order are also done by the supplier. And you only need to focus on the operation and promotion of the website or testing and promoting products.
The important thing is that in this model, you are not limited to one product. If you realize that this product is not selling well, you can replace it and move on to the next one. But if you stock up a lot, can you do it so easily?
In this way, we can see the obvious advantages of drop shipping. Retailers get:
What is a Marketplace Model?
What we call Marketplace is an online market or trading platform, and its essence is connection and matching. The market itself does not provide products or services but provides an interactive platform for participants.
The marketplace connects people who want to provide products or services (suppliers) with people who want to buy products or services (buyers) and performs matching. Finally, close the deal.
This is the core reason why marketplaces can exist. In the past, buyers and sellers might have had a hard time finding each other. Therefore, the emergence of the Marketplace is more like a bridge, connecting buyers and sellers. Markets create efficiencies in an otherwise inefficient market.

The Benefits of the Marketplace Model
What is the Difference between Dropshipping and Marketplace?
You need to distinguish the difference between dropshipping and marketplace to know which to choose for your business. In the table below are some basic points.
The difference between dropshipping and marketplace is also reflected in other elements.
MarginIn dropshipping, the margin is usually the wholesale price, which is about 50% of the retail price.
In the marketplace, product brands sell products directly to consumers. After completing a complete order, sellers need to pay a small fee to the marketplace, usually around 5-20% of the entire order.
ReturnsIn dropshipping, the recorder of returns is the retailer. While the supplier handles the return, the retailer simply creates the return label and provides support.
But in the marketplace, the brand is responsible for the entire process, providing return guidance and support, as well as product return labels.
ProductThe marketplace doesn't dictate what sellers sell, but drop shippers have complete autonomy over what they sell.
3 Best Dropshipping Suppliers
There are many dropshipping suppliers around the world, such as SaleHoo, Worldwide Brands, Doba, Sunrise Wholesale, CJ Dropshipping, Aliexpress, Alibaba, Honestfulphilment, and so on. You may know them but not enough.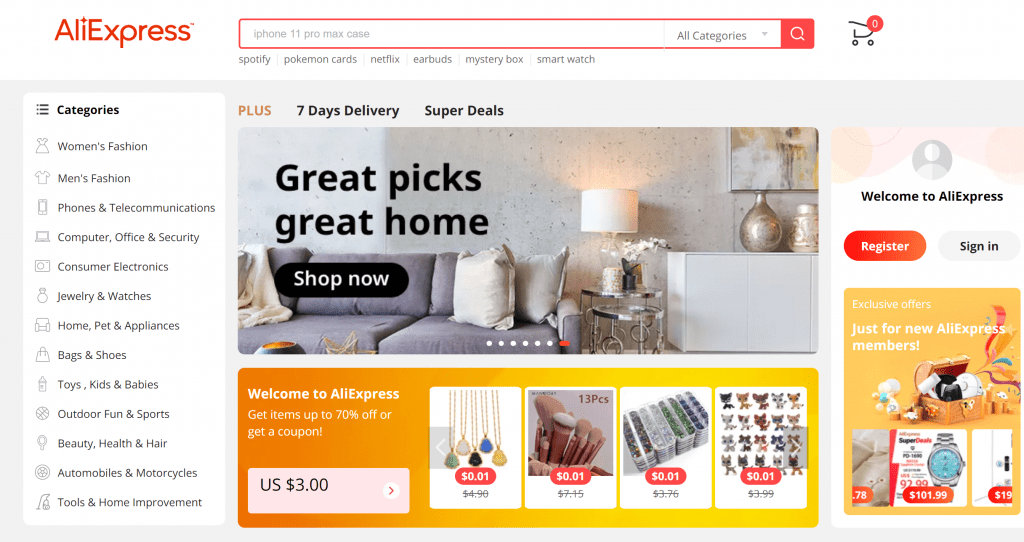 As an international wholesale and dropshipping platform, Aliexpress connects e-commerce platforms, dropshipping providers, and products. Through Aliexpress based in China, the majority of merchants sell and source their products from the region. It's open to people around the world for free.
At present, Aliexpress ships to 254 countries around the world, including the US. There are more than 100 million products on Aliexpress.
Both beginners and veteran dropshipping business owners can use Aliexpress to find trending products, do market research, build relationships with vendors, and order wholesale.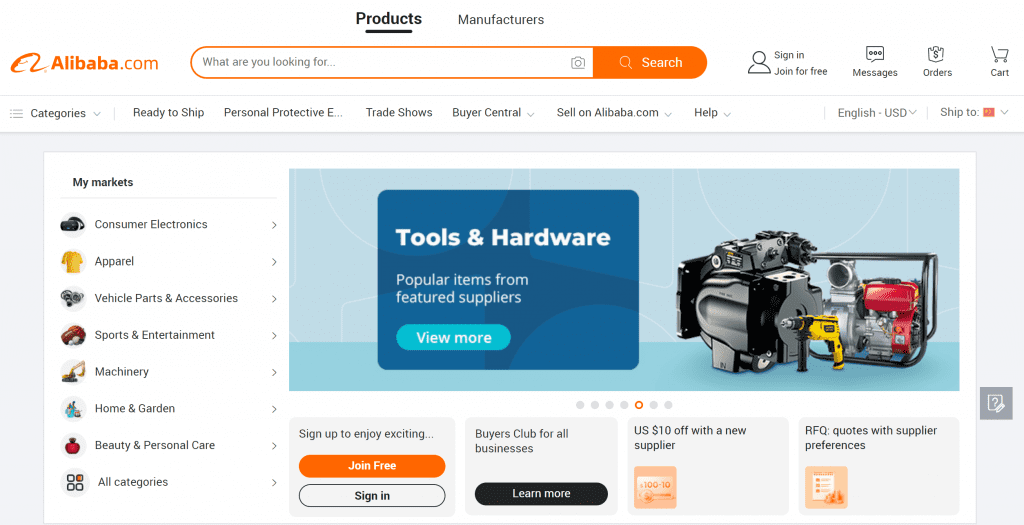 As a large B2B marketplace in China, Alibaba connects buyers and sellers very well. The platform is more for wholesalers than single sellers, and it can facilitate transactions directly with manufacturers. Suppliers can provide bulk items and fulfill orders for your dropshipping store.
The product delivery period on Alibaba dropshipping platform depends on the location you live. You can expect to wait up to six weeks for deliveries. Alibaba has more than 2.8 million suppliers and more than 5,900 categories.
Advanced dropshipping owners prefer private-label manufacturing and want to buy bulk goods at the distribution level to sell as consumer items.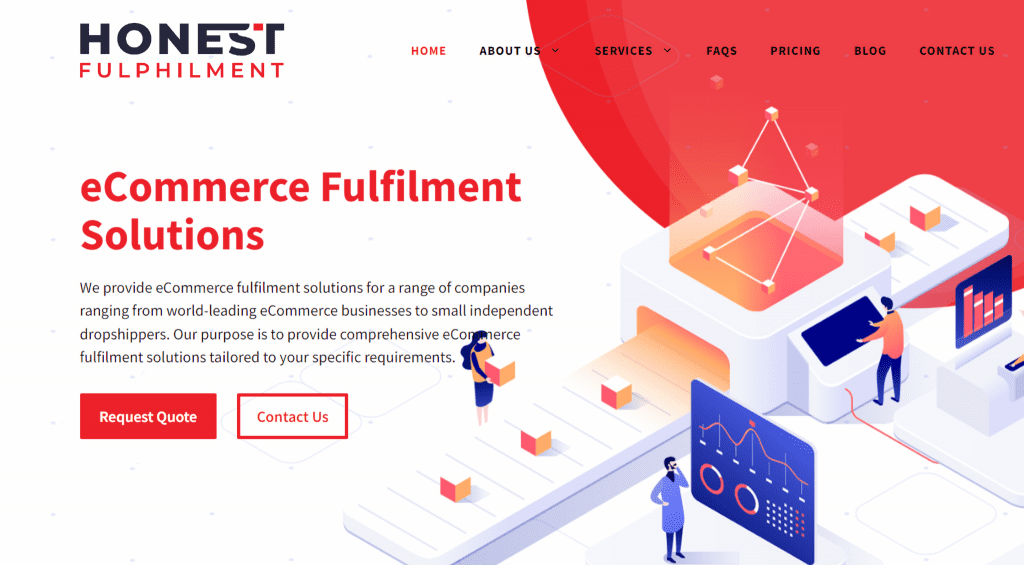 Honest FulPhilment aims to provide comprehensive e-commerce fulfillment services from product sourcing to branding and international logistics. By tailoring fulfillment services according to your actual needs directly, the supplier has the capacity to adapt and alter in line with your business needs.
At present, Honest FulPhilment is mainly equipped with two warehouses in China, and they are located in Zhengzhou and Shenzhen respectively. Meanwhile, Honest FulPhilment has 3PL warehouses around the world, such as in the US, UK, Czech Republic, Germany, Australia, France, Italy, Spain, Ireland, Austria, Sweden, Poland, Netherlands, Belgium, Japan, and Canada. So, HonestPhilment has the advantage of location, and the delivery period can be ensured very well.
At present, Honestfulphilment can source products according to the actual needs of dropshipping business owners, whether it is a regular product or a custom product.
Conclusion
Either dropshipping or marketplace model you have to choose one. Either way, you need to consider working with a vendor. However, with the impact of the epidemic and the development of online shopping, most online retailers choose the dropshipping model to transfer inventory and drive sales.
The most important thing in dropshipping and marketplace models is your product selection ability. Honest FulPhilment is happy to be your professional supplier. Have a professional team to provide you with product selection and procurement services. Figure out what kind of experience you want to provide to your end customers before making your choice. Or contact us now.

More about Dropshipping And Marketplace:
Need a Quick Quote?
– Competitive price
– Quote within 24 hours
– 30+ Shipping methods
– Dedicated account manager
– Shopify/Woo integrations
– Autofulfil
– Auto tracking
– Plus much, much more