How To Get Started With Amazon Dropshipping?
You've probably heard of people making a fortune selling Amazon dropshipping – and it's true! So have you ever thought about Amazon dropshipping? That means lots of clients and profits. After all, Amazon is one of the most well-known and popular platforms in the world.
But where do you start? And how does dropshipping work on Amazon? This guide lets you start your own Amazon dropshipping business with no upfront investment.
What is Amazon Dropshipping?
The dropshipping model refers to e-commerce retailers selling products without carrying any inventory. When a retailer receives a customer's order, they simply contact the supplier, who will ship the product directly to the customer's door.
Dropshipping on Amazon is essentially the same as drop shipping. The difference is that you'll be selling products on Amazon's marketplace rather than selling them exclusively on a standalone eCommerce store.
So, how do you dropshipping on Amazon? You can through their Fulfillment by Amazon(FBA) program.
You ship the product to Amazon, where the inventory is kept. When your customer places an order, Amazon ships directly to your customer.
A lot of dropshipping sellers prefer to do this on Amazon because of its huge market share. Additionally, Amazon can be integrated with your self-operated e-commerce site or Shopify store as a sales channel. The main thing is that Amazon can provide the fast delivery time that customers like most.
What are the Pros and Cons of Dropshipping on Amazon?
Starting your business on Amazon is a great way.
Here are the pros of dropshipping on Amazon:
Here are the cons of dropshipping on Amazon:
Amazon's Dropshipping Policy
Another important thing to remember is that Amazon is a global marketplace. This means you will be able to sell your products to customers all over the world. However, you need to comply with the laws and regulations of each market in which you sell. Make sure to research the requirements for each region before you begin.
Amazon allows you to dropship as a seller, but you need to follow some principles when using amazon:
How to Dropship on Amazon for Beginners: 6-Step Checklist
Ready to get started dropshipping on Amazon? Here's a quick checklist to help you get started:
Setting Up an Amazon Seller Account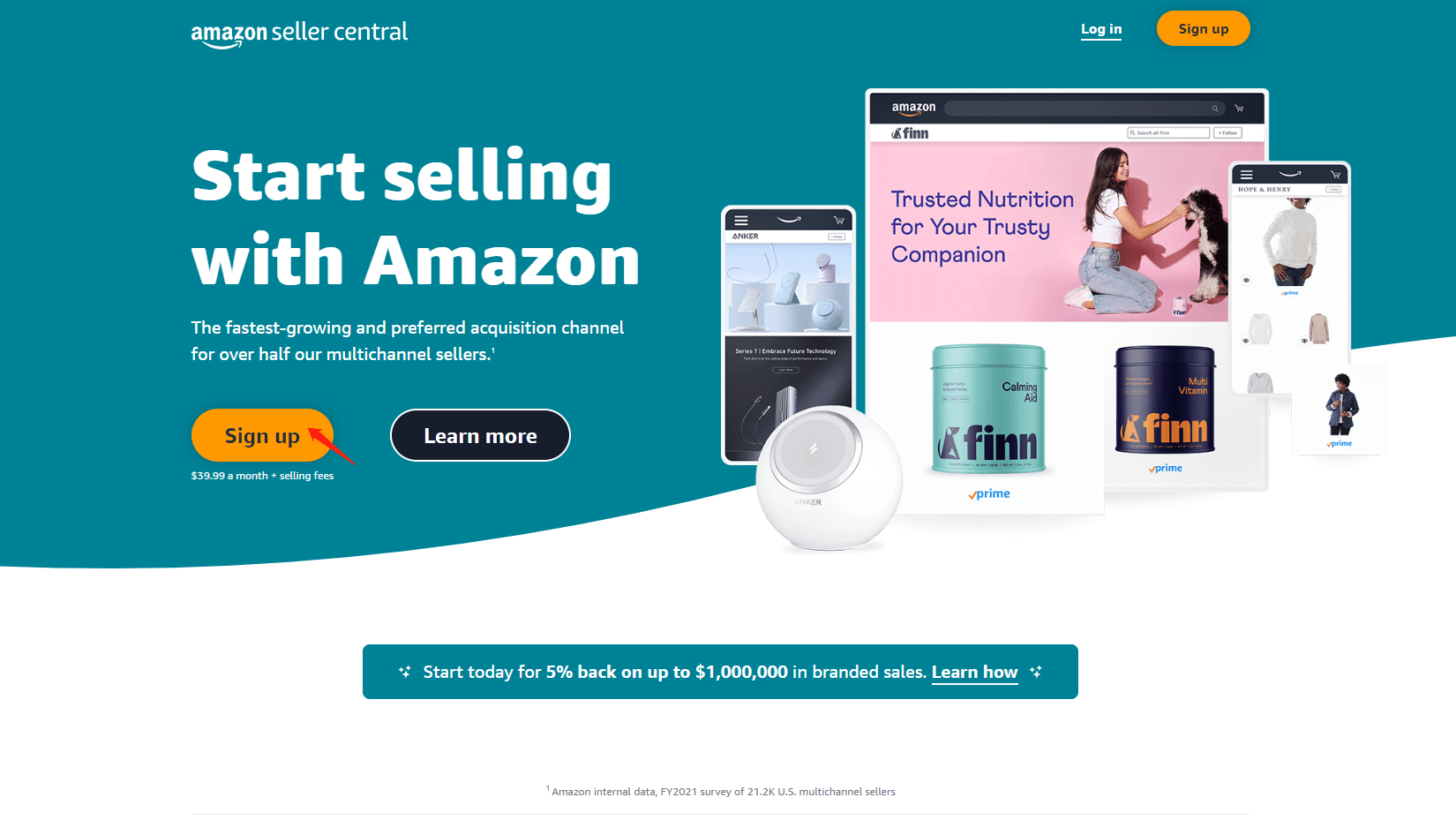 Open Amazon seller central, and you need to create an Amazon seller account first. They offer you two account types: Personal and Professional. Choose according to the quantity you plan to sell per month, and it is applicable to the professional account when it is more than 40 pieces.
It is where you manage your business and sell. It's a fairly intuitive platform, but it might take some getting used to. Take your time to explore the different menus and options, and don't be afraid to ask for help if needed.
Choose the product you want to sell
You can use tools like Jungle Scout's opportunity finder to find high-demand or low-competition product opportunities. Or read our other article in detail to find niche products that are in demand all year round.
But we still recommend:
Notice, get approved in your product category (if necessary)
We recommend some best dropshipping suppliers:
This global marketplace offers a wide range of products from a huge range of suppliers, all at competitive prices. AliExpress is perfect for Amazon dropshipping as it offers great product variety and fast shipping times.
Oberlo is a popular dropshipping app that makes it easy for you to find and add products from thousands of suppliers to your store. Oberlo also syncs with AliExpress, making it easy for you to find high-quality products to sell on Amazon.
Honest FulPhilment provides e-commerce fulfillment solutions to a range of companies from the world's leading e-commerce businesses to small independent shippers. It's a great option for Amazon dropshipping, they help you purchase products whatever you need in China, with fast shipping times.
Link Amazon to your Shopify account
This step is for sellers who are already using Shopify. You can link it to your Amazon account. This helps you easily manage your orders on both platforms.
First, go to your Shopify account. Find Sales Channels in the left panel and click the + button in the left sidebar. A list of items will be displayed, find Amazon. Next, click "Add Channel" to link the two platforms, and finally click "Connect to Amazon" to confirm.
Create an Amazon product listing
From your Seller Central account, go to Inventory > Add Product. When the Add Product screen appears, click Inventory > Add Product. When the Add Product screen appears, click Create New Product Listing.
When filling in product information, pay attention to:
Promote your Amazon store
If you want to do business as hands-free as possible, the best way is to choose the best software to automate your process. There are a few software that you can use to sell products on Amazon.
Shopify is the most popular platform for drop shipping. You can integrate Amazon as a sales channel on your Shopify website, easily listing your products on both platforms. It allows you to track inventory and keep an eye on pending sales.
Jungle Scout is an indispensable tool. Help find, publish and sell products on Amazon. It also has a variety of useful complementary tools, such as vendor database tools.
AutoDS is a great platform for finding profitable products to sell on Amazon.
Best Amazon Dropshipping Tools
As a beginner, it can be difficult to know where to start. But luckily, there are a few tools that can help make the process a little bit easier.
This tool is great for identifying hot topics and trends in your niche. You can use it to see how often particular keywords are being searched for and to get an idea of what people are talking about.
This tool is essential for finding keywords that you want to target in your dropshipping business. You can use it to see how competitive a particular keyword is, as well as how much traffic it could potentially bring in.
Canva is perfect for creating stunning product images that will help you stand out from the competition.
Conclusion
You've seen the tremendous convenience and profits of dropshipping on Amazon, now is the time to start. Once you dabble in this low-risk approach, your online store will be sustainable.
No matter which step you stop at, you can find Honest FulPhilment for consultation. But if you haven't found your supplier, Honest FulPhilment can help you do that. As an all-in-one dropshipping center, we provide complete fulfillment services including sourcing, warehousing, order fulfillment, and shipping. Contact us now.
More about Amazon Dropshipping:
Need a Quick Quote?
– Competitive price
– Quote within 24 hours
– 30+ Shipping methods
– Dedicated account manager
– Shopify/Woo integrations
– Autofulfil
– Auto tracking
– Plus much, much more