Dropshipping Order Fulfillment: Everything Sellers Need To Know
In the Cross-border eCommerce industry, dropshipping order fulfillment is being respected by more and more sellers. But what is dropshipping order fulfillment? Whether you are a startup or an experienced retailer, you must fulfill orders correctly because order fulfillment greatly affects the customer experience.
Follow this page to free up your time and maximize your profit margins.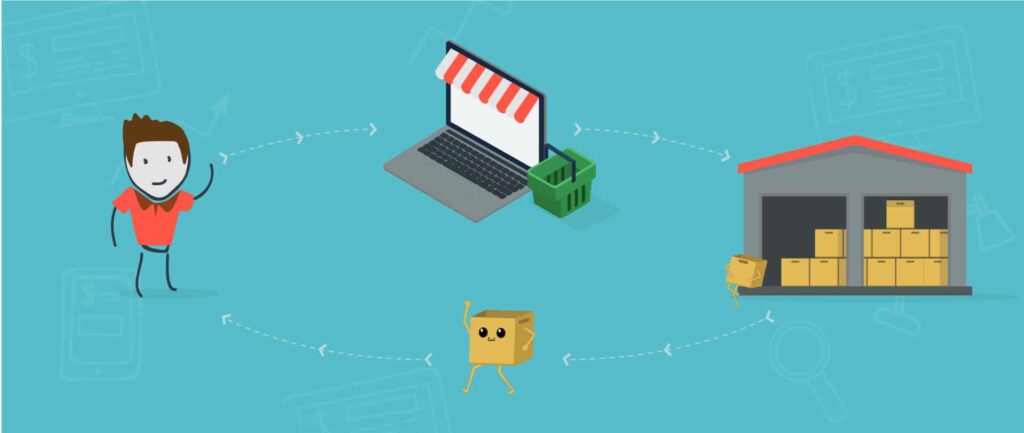 What is Dropshipping Order Fulfillment?
We are familiar with the dropshipping model as an eCommerce business model. Dropshippers sell products online through an eCommerce platform like Shopify. Then the customer places an order, and dropshipping suppliers(usually wholesalers or manufacturers) fulfill those orders and ship products directly to the customer. Dropshipper is not required to store and ship any products.
Order fulfillment is the process of receiving, packaging, and shipping orders. The main steps include order receiving, order picking, assembly, packing, shipping, and order tracking.
In this way, dropshipping order fulfillment is easy to understand. It means dropshipping sellers relinquish control of the order process, leaving it all to wholesale suppliers. This enables retailers to achieve on-time, on-schedule shipments and improve customer satisfaction. Some businesses also choose to outsource to fulfillment companies. The idea behind this is to give dropshipping sellers the freedom to run the most important part of their dropshipping business.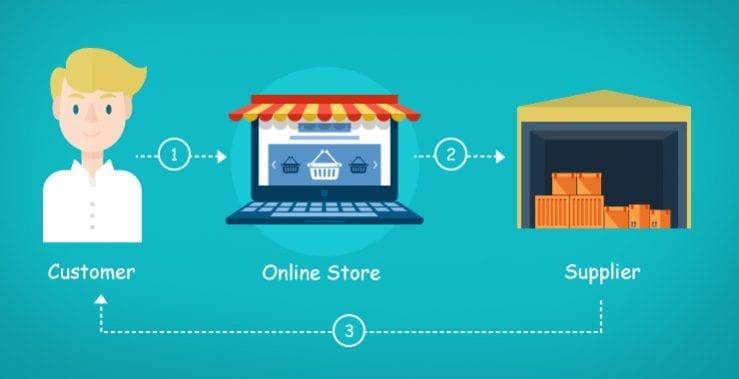 Process of Dropshipping Order Fulfillment
Order management
Your business is expanding and orders keep coming. Manage your orders with AI or order management tools to avoid messing you up.
Inventory/warehouse management
Inventory management for even a small online store can be complex. You need a constant, real-time view of how much you have on hand for sale.
Fulfillment center
A fulfillment center is also known as a distribution center, this is usually the same warehouse where sold merchandise is stored.
Picking and automated packaging
Items are sent from the designated storage space to the packing station where they are packed according to the order.
Ship the order and delivery
Hand over to the courier service for transportation until the package arrives and is delivered to the customer. Every fulfillment service ends here.
Order Tracking
Your customers always want to know where their merchandise is going. With tracking information, both you and the customer know the progress and location of the order and know the shipping time.
4 Types of Order Fulfillment
In-house Fulfillment
In-house fulfillment is the process by which a company fulfills orders with its own employees, who perform all the processes involved in the order. To reduce costs, some startups choose in-house fulfillment, and as the volume of orders gradually increases, many companies shift to outsourced or hybrid fulfillment models.
Outsourced Order Fulfillment
Outsourced order fulfillment means that a third-party logistics company (3PL) or order fulfillment company handles the entire fulfillment process – from receiving the manufacturer's inventory to delivering the order to the customer, in which case the 3PL's employees handle the shipping, storage, and return of the merchandise. Inventory is stored in the 3PL's warehouse, which means that companies using outsourced fulfillment do not need to rent a warehouse and can use this method if they do not have enough storage space or do not have enough staff.
DropshippingDropshipping is a retail implementation in which the store does not keep an inventory of the products it sells. Instead, when a store sells a product using the drop ship model, it purchases the item from a third party and sends it directly to the customer. As a result, the seller does not have to handle the product directly.
The biggest difference between Dropshipping and the standard retail model is that the merchant does not stock or have inventory. Instead, the seller purchases inventory from a third party as needed, and the order is usually fulfilled by a wholesaler or manufacturer.
Hybrid Fulfillment
Hybrid mode. A hybrid model is simply a combination of two or more of the three models described above. For example, a company may choose to handle all or only popular product order fulfillment in-house, but also choose to outsource order fulfillment during peak periods (e.g., holidays).
Benefits of Dropshipping Order Fulfillment
Fulfilling the order can simplify our sales process and bring great convenience.
Steps to improve the Dropshipping Order Fulfillment Process
For some small and medium-sized sellers, we need to reduce the cost of sales in various ways. In order to achieve continuous profits and ensure our store profitability, we can improve and improve The Order Fulfillment Process Of Your Dropshipping Store from the following five aspects.
Dropshipping Orders Fulfillment can help you to make an integration. Consolidating the entire process not only saves time but also helps you streamline the products you will ship directly to your customers.
Facilitate End-to-End Order Visibility
When a customer wants to buy certain products, we need to provide a platform to easily view the catalog, order, and inventory quantity. Therefore, we need to find such a platform that allows consumers and merchants to obtain information conveniently and simultaneously.
Connect with the Right Shippers
To ensure that shipping companies are reliable, logistics information is updated accurately, and it is possible to see if there have been any major changes in the way they process orders. Then we need a new company to partner with for all your fulfillment needs.
Honest FulPhilment can easily meet your needs through its own independent APP mode, and the client of Honest FulPhilment is updated at any time, so you can see the changes in logistics information anytime and anywhere, which is beneficial to consumers and businesses. Control product shipping information. You can get more details here!
Find a Way to Manage the Exceptions
If there are some abnormal situations during transportation, we need a suitable Dropshipping Orders Fulfillment supplier to help us process this information. For example, customs detention or there is no way to deliver on time, etc. Honest FulPhilment can remind us to deal with these problems in time.
Be Strategic With Your Shipping
After customers pay for the products they want, they always hope that their products can be delivered on time, so we must choose a stable logistics service. But how to choose the best shipping method? We can add intelligent shipping algorithms in Honest FulPhilment to ensure the timely delivery of products.
Conclusion
Don't underestimate the value of high-quality dropshipping order fulfillment. Whether your dropshipping business is large or small, the order fulfillment process should be a fundamental task in your supply chain. At the same time, outsourcing order fulfillment to third-party companies often yields the greatest results. On the basis of saving you a lot of time and money, satisfy your customers with the greatest sense of experience.
If you have any order fulfillment service needs, please feel free to contact Honest FulPhilment. A professional team will quote for you free of charge.

More about Dropshipping Order Fulfillment:
Need a Quick Quote?
– Competitive price
– Quote within 24 hours
– 30+ Shipping methods
– Dedicated account manager
– Shopify/Woo integrations
– Autofulfil
– Auto tracking
– Plus much, much more