Private Label Dropshipping
Private Label Dropshipping business is a new strategy adopted by many dropshippers and entrepreneurs. If your eCommerce business is also under the pressure of developing products, then private label dropshipping is a good choice. It can be achieved with a minimal up-front investment of time and money.
But what exactly is a private label, and how does it fit in with dropshipping? Continue to follow this page.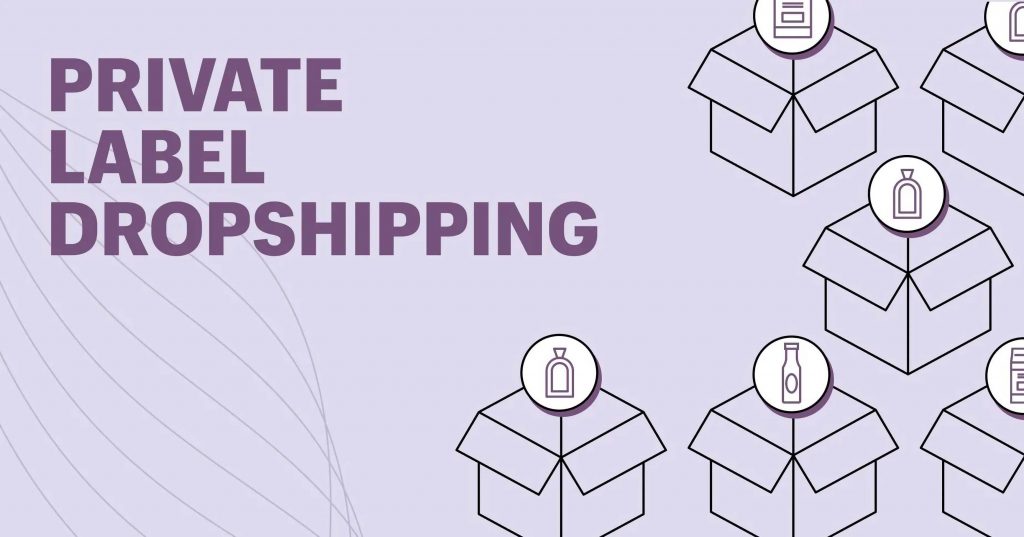 What is Private Label Dropshipping?
Dropshipping model enables retailers to sell products directly to customers without holding inventory. And the delivery of the product is entirely handled by the wholesale supplier. Therefore, there are many dropshipping sellers whose products sell well, then they have the idea of building their own brand.
This is how the Private Label Dropshipping model came about. This model works like this: You order products from suppliers, label them with your own brand, and sell them in your online dropshipping store. After a customer places an order, the supplier ships the product directly to the customer. This means you are selling private label products. But in fact, the source of goods still comes from suppliers. You still don't hold inventory in this mode. The purpose of private labels is to increase the loyalty of customers to their products.
Note in particular that the private label is different from the white label. We have distinguished between the two in another article, click to learn more.
But you need to understand the difference between private label and dropshipping in order to better combine the two e-commerce business models.
Dropshipping vs. Private Label
Benefits of Private Label Dropshipping
Loyal customers
Because private label products carry our unique labels, this increases the credibility of the products with loyal customers. Conducive to our long-term profits.
Low start-up costs
Unlike a standard private label, private label dropshipping requires very little initial investment.
Competitive
Customers distinguish our products from ordinary products through customized logos and packaging. Even if the product is the same, the unique appearance of the private label will be preferred by customers.
More freedom to develop
Since the inventory and delivery of products are done by the suppliers, our time can be used to expand the dropshipping business.
Quickly update products
When we find new niche trends in the market, we can quickly order and sell these products. In contrast, non-private-label niche companies cannot suddenly start selling popular products because they need to plan carefully.
Best Private Label Dropshipping Suppliers
Whether you are doing dropshipping business in the United States or globally, finding high-quality private label suppliers to cooperate with is the most important thing. You might be tempted to start with a local dropshipping supplier, but often they don't have the means to help you add product logos to your products, and they can be very expensive. You have many options. The best way is to choose a worldwide dropshipping supplier, especially Chinese suppliers, to help you source your products in China and put any logos on them.
Here are the best dropshipping suppliers:
Thousands of reliable manufacturers can be found on the Alibaba platform. With about 6000 different categories and a large number of private-label products. And the cost of private labeling is low. Customer support is an important part of Alibaba's success. But ordering on Alibaba requires a higher minimum order.
AliExpress is the most popular website to buy cheap goods from China. It does not provide private label services but can connect us with private label suppliers.
Entrepreneurs looking to sell private label products on a larger scale should consider SupplyMeDirect. They offer high-quality products at affordable prices.
Honest FulPhilment provides you with the best dropshipping service. Including purchasing, packaging, branding, order fulfillment, and shipping. We cooperate with 2500+ Vetted Suppliers in China and are committed to providing high-quality products. Our app can also be integrated with your Shopify store, so your customers can place orders directly and we will fulfill them automatically. We also provide customized services, customizing your brand packaging and labels, as well as professional photo and video shooting to build your brand.
Conclusion
If your dropshipping business needs private labeling services, please contact us.
More about Private Label Dropshipping:
Need a Quick Quote?
– Competitive price
– Quote within 24 hours
– 30+ Shipping methods
– Dedicated account manager
– Shopify/Woo integrations
– Autofulfil
– Auto tracking
– Plus much, much more