Best Camping Furniture Dropshipping In 2023
Seize the blue ocean business opportunities of camping furniture products!
Due to the high popularity of outdoor activities overseas, the global market demand for outdoor products is still exploding. According to Statista data, the global sports and outdoor products market has exceeded 60 billion USD and is expected to exceed 92.3 billion USD in 2023. And global sports and outdoor products consumers are close to 900 million people. Moreover, camping equipment accounts for the largest demand among all outdoor activities.
But is it profitable for e-commerce dropshipping sellers? I think it must be!
According to Google Trends, camping gear is the most popular from May to August every year. The regions with the highest increases in search interest were Iceland and Ireland. So have you prepared your camping products for dropshipping ahead of time?
We researched and found: In the market segment with camping gear, the trend of camping furniture is rising. In terms of user needs, the lightweight and multi-functional designs of camping gear are more popular. In terms of product material requirements, users prefer durable and breathable fabrics.
Based on this information, we have found the 10 best camping furniture products that you can put on your online store to increase your sales.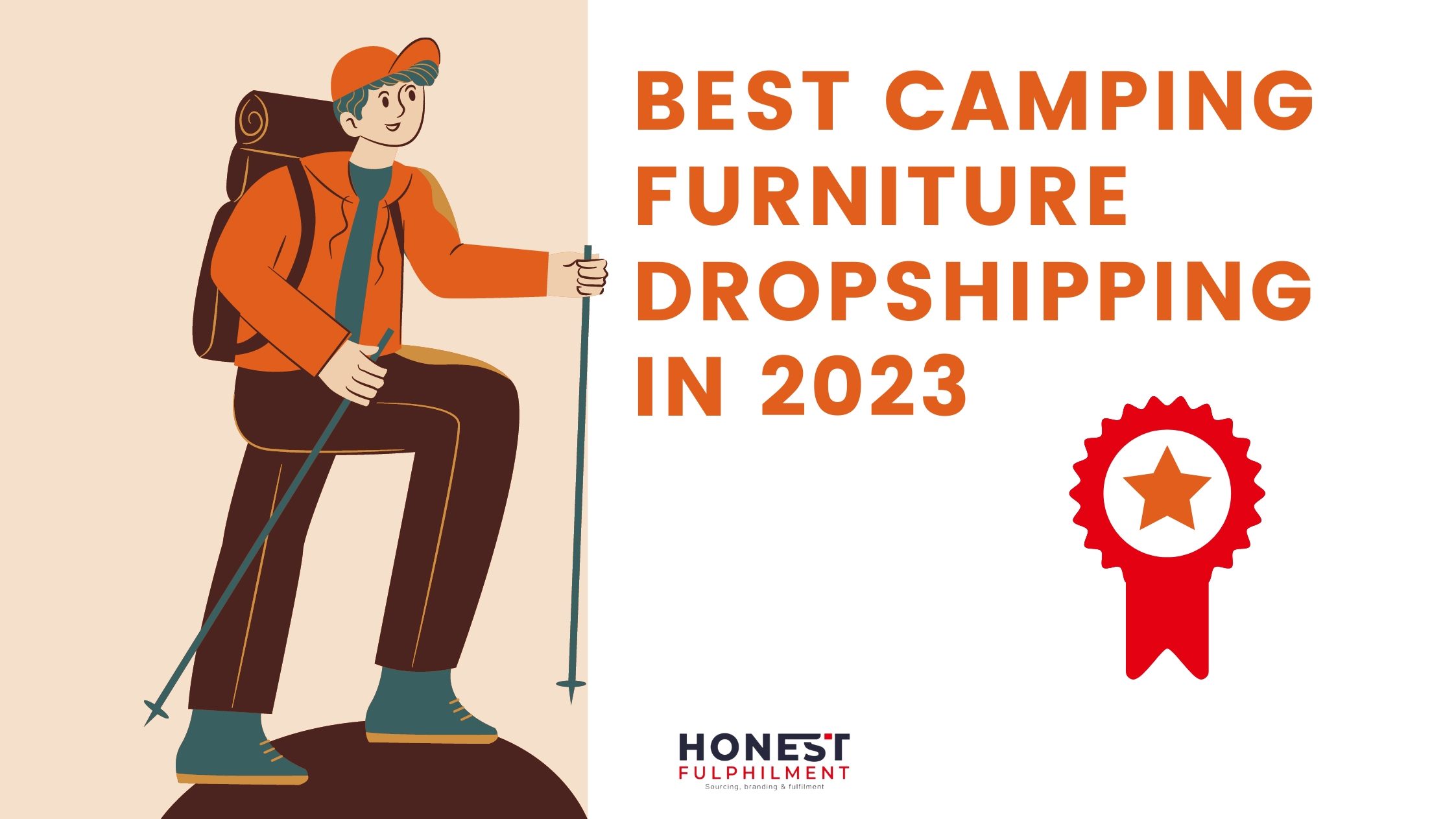 Folding Chaise Lounge Chair Folding Camping Cot
Folding Chaise Lounge Chair is one of the most popular camping furniture. Besides camping, it is often used in other outdoor activities as well. We recommend this one the most because it is much more comfortable to use than a normal rollaway bed.
It is made of a high-quality thick steel tube frame so it can support up to 500 lbs for a stronger structure. It can be folded and unfolded in seconds for easy storage and portability. Garden, courtyard, beach, and camping can be used.
Cost and Selling price:
Cost price: $37.4 on AliExpress
A total of 31 orders, and a 4.5-star rating.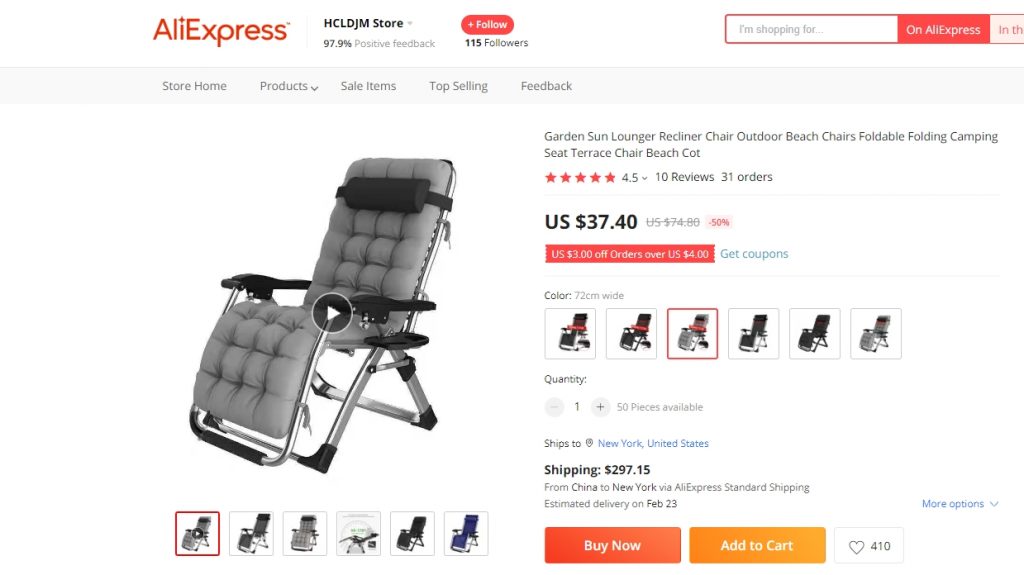 Selling price: $149.99 on Amazon
708 orders.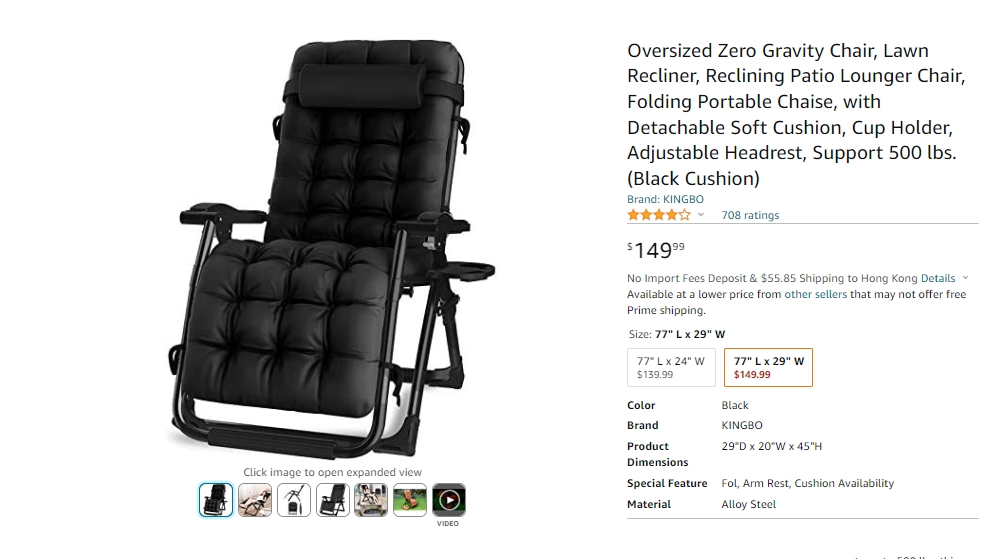 Folding Camping Cot is in great demand and is less competitive. We also found that some elderly people or newly recovered patients also have a demand for this product. So you can dropshipping this for a long time. But shipping cost may be an important consideration for you.
We think you are better off selling these products under your own brand. You can contact Honest FulPhilment to help you provide custom logo and packaging services.
Inflatable Sofa Chair
Next, the inflatable sofa chair! This one is also equipped with a footrest, it is full of comfort. The inflatable design is also easy to carry and store.
It is made of high-quality flocking and thick PVC material, 100% safe and environmentally friendly, and more durable. And with a quick valve at the bottom, equipped with a home air pump, it only takes a few minutes to inflate and deflate. Can be used in gardens, outdoor patios, camping, travel, beach, hiking, and other outdoor scenes.
Cost and Selling price:
Cost price: $13.15 on AliExpress
74 orders, and a 4.5-star rating.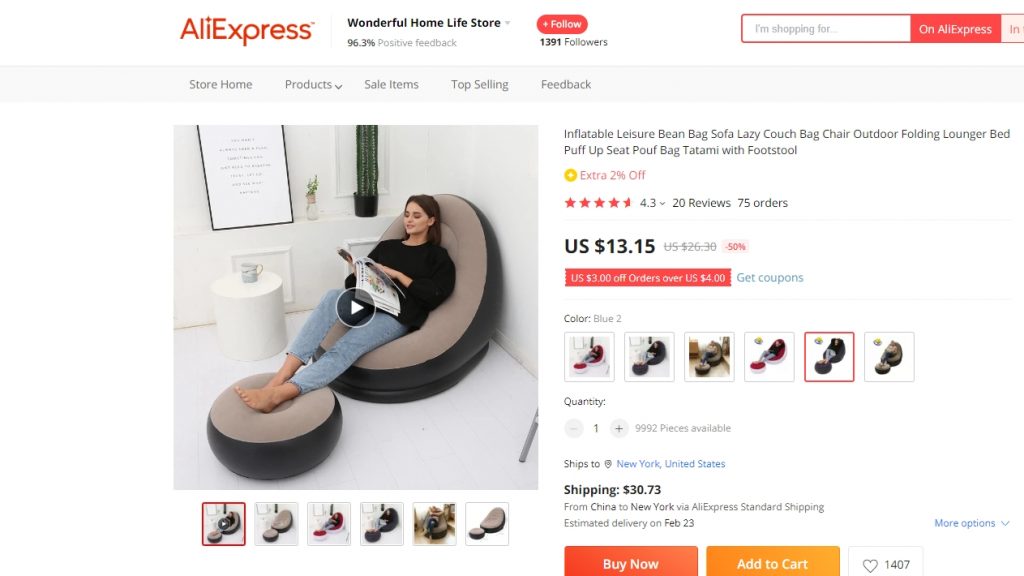 Selling price: $49.99 on Amazon
365 orders.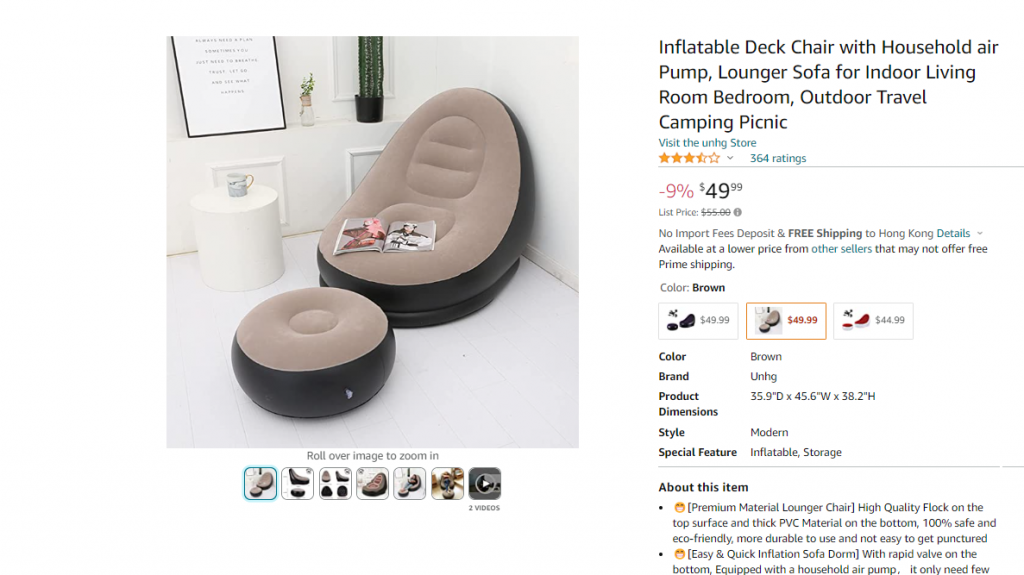 The profit margin is still huge. If you dropshipping this product, we suggest that you can add a foaming cleanser to your store and sell with. Because the outdoor furniture clean is a headache for most customers.
Double Camping Chair
Double chairs are also very popular abroad. Great for multi-person road trips and camping. It easily fits two adults and is very sturdy. Can be folded for storage. There is also a drink holder next to each seat.
Cost and Selling price:
Selling price: $47.99 on Amazon
1115 orders, 4.6-star rating.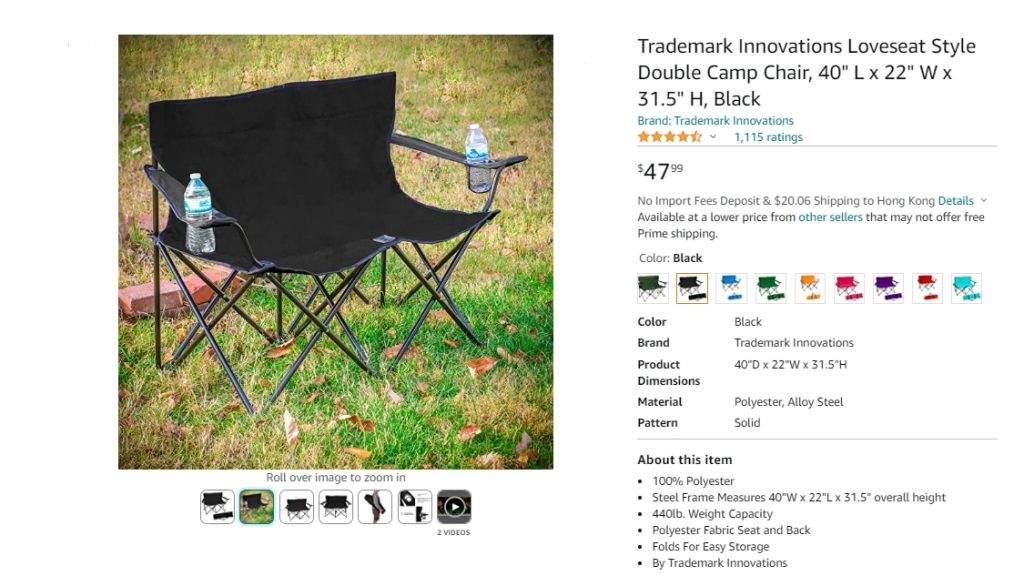 So many orders and good reviews are enough to show that it is really worthy of your dropshipping. So you better prepare in advance. On your product homepage, you should include a video of the product in use.
Folding Camping Stool Telescopic Stool
This camping stool combines the advantages of lightweight and stability. The stool can be carried directly after stretching, which is more convenient and does not take up space. It can be used for an outdoor barbecue, fishing, excursions, etc.
Cost and Selling price:
Cost price: $16 on AliExpress
Free Shipping. 402 orders, and a 4.7-star rating.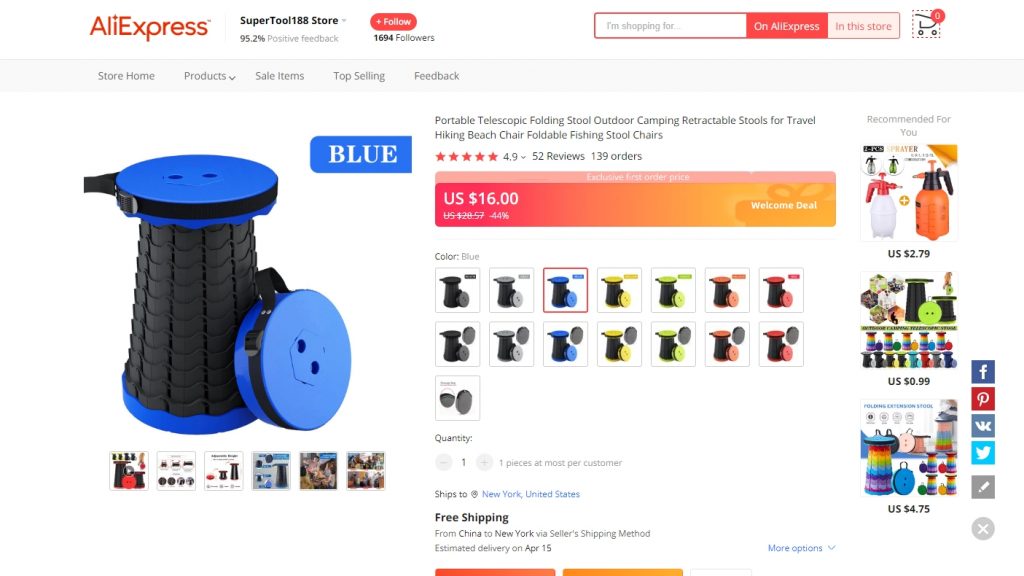 Selling price: $29.99 on Amazon
894 ratings.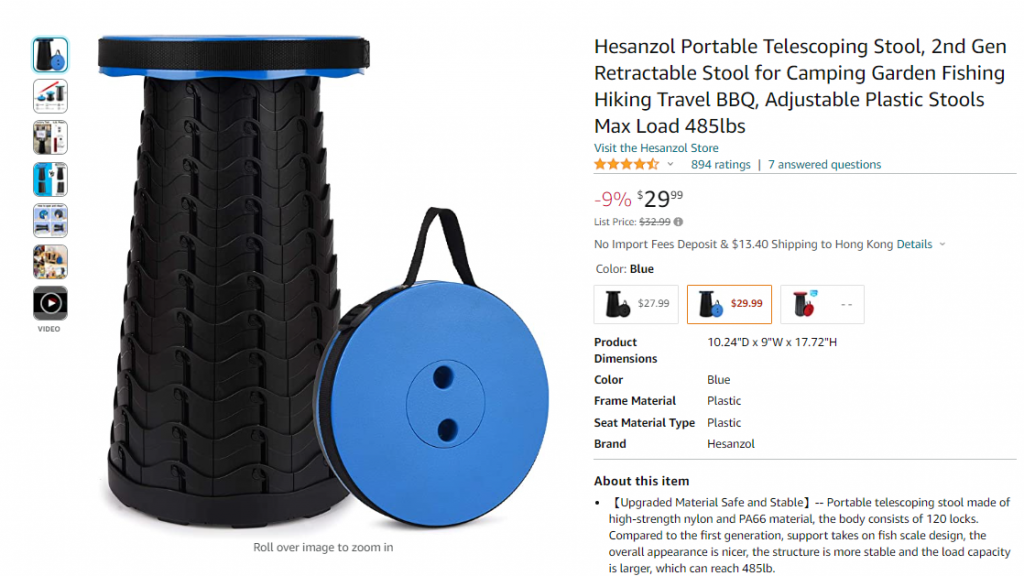 Kermit Chair
Kermit chair is a new popular outdoor camping furniture recently. Almost everyone who has ever gone camping has one of these chairs. The reason for its popularity is its good looks. It is easy to fold and unfold. Compared with Maza and Moon Chair, it is more stable and comfortable.
The brackets of this chair are generally made of aluminum alloy and wood. If you intend to dropship this, I suggest you best recommend this aluminum alloy to your customers. Compared with wooden ones, which are easily damaged, aluminum alloy ones are more durable and sturdy, and easier to transport.
Cost and Selling price:
Cost price: $44.93 on AliExpress, Free Shipping. 341 orders, and a 4.8-star rating.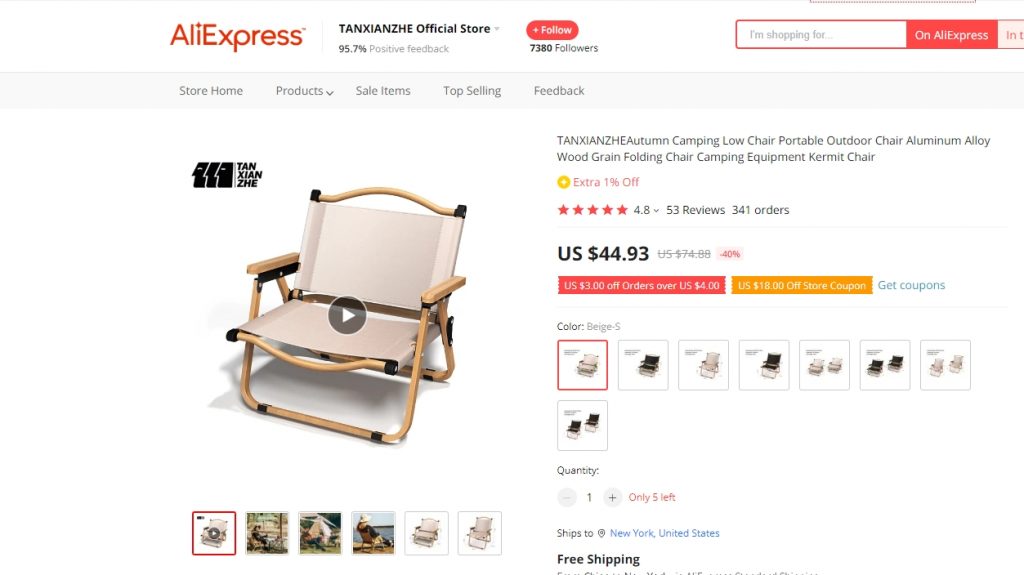 Selling price: $84.99 on Amazon.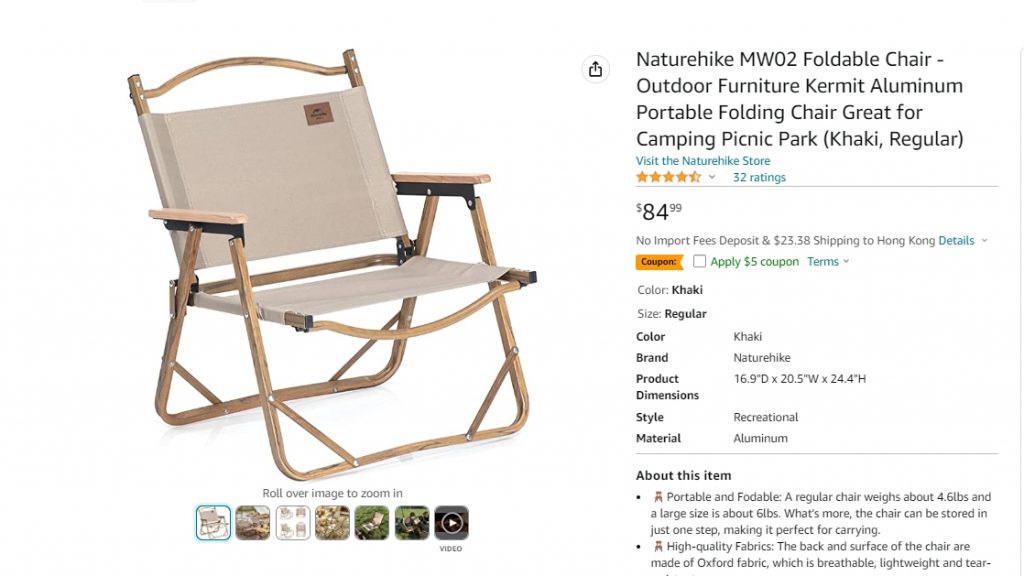 Taking advantage of its good looks, you can let some bloggers use it and take some photos, and then put them on social media, like TikTok or Facebook, to achieve marketing. Many people will choose to buy it in order to take the same photos as bloggers.
Folding Moon Chair
Compared with the previous two models, the moon chair is the most cost-effective. Its carrying weight and comfort are relatively good. There is room on the side for your mug or toilet paper etc. This set comes with a small tote bag for storage.
It is made of Oxford cloth and an aluminum alloy frame, with a static load capacity of 100kg, and can sit slumped. It can be folded into a small volume and put into a handbag, which is light and has a small storage space. It is the best choice for outdoor adventure, camping, and so on.
Cost and Selling price:
Cost price: $22.78 on AliExpress
Free Shipping. 5755 orders, and it has a high score of 4.8. It is the top-selling on AliExpress.
Selling price: $45.99 on Amazon.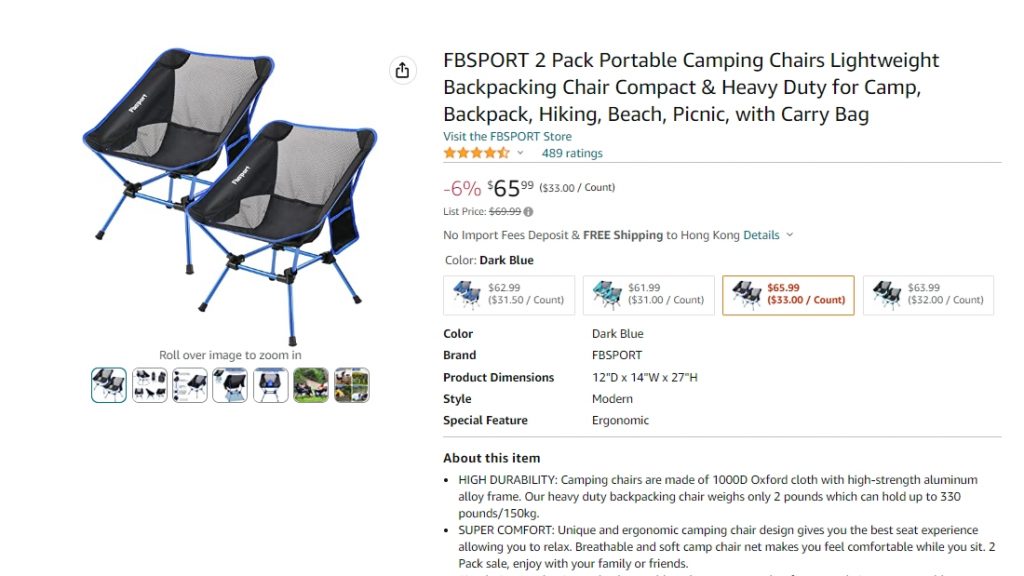 The profit of the moon chair may not be as good as that of the Kemit chair, but it is in great demand and has the most favorable comments from users. If you are new to dropshipping and are hesitant to choose camping furniture products, then please give priority to the moon chair. It won't let you down. Similarly, please stock up in advance for summer camping.
Outdoor Folding Table
Folding tables are great for camping. You can use it for cooking or dining. The highlight of this folding table we found is the integration of use and storage. In addition to the desktop above, the unique spacious storage basket under the table can be used to store your various sundries. Compared with other folding tables that can only fold the legs, this table can be folded as a whole, including the table board.
Assembly only takes a few minutes. Don't worry about firmness and weight. Its tabletop is made of upgraded aluminum and is lightweight. The leg frame is made of high-strength steel, which is strong and durable. Suitable for outdoor camping, beach, or garden picnic.
Cost and Selling price:
Cost price: $31.85 on AliExpress
119 orders, and a 4.9-star rating.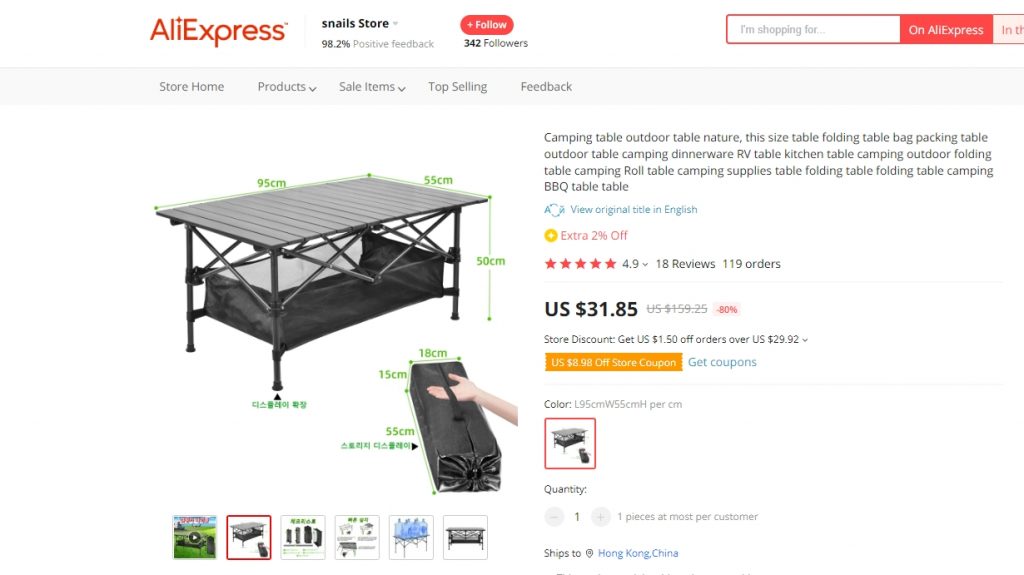 Selling price: $59.99 on Amazon
640 orders.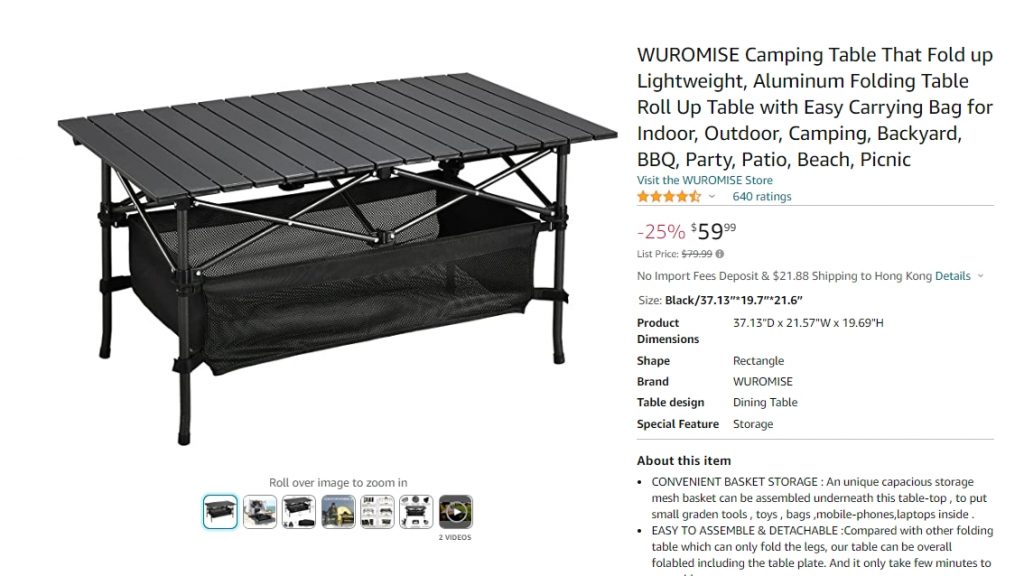 It can be seen that the quality of the product is acceptable because almost all users are satisfied with it. There are many people who need it but your competition is small. But also consider the price of shipping. We can help you choose the best shipping rate and fastest shipping time.
Camping Folding Storage Table Beach Table
Beach Table is very popular on Amazon. Easy to assemble, portable, does not take up space, and super light.
The design of the upper and lower floors provides more storage space. There are 4 mesh cup holders on top of the table for drinks. Great for outdoor picnics, camping, fishing, gardens, yards, beaches, and even as a game table.
Cost and Selling price:
Selling price: $47.99 on Amazon, 349 orders.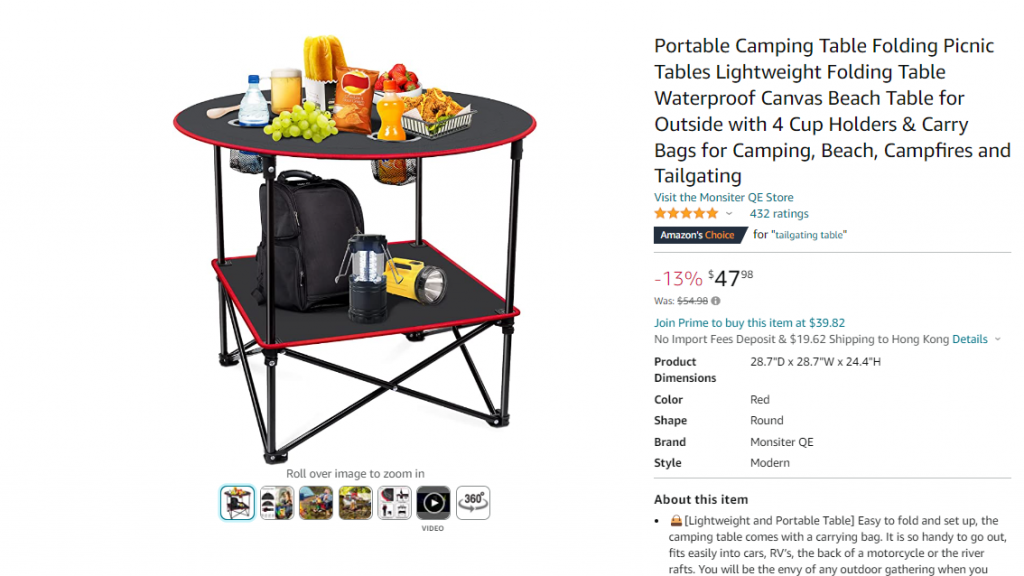 This is a great dropshipping opportunity. But there are very few suppliers offering this product on AliExpress. If you are interested in it, contact Honest FulPhilment now to help you source the best price.
Dropshipping Best Camping Furniture With Honest FulPhilment
Selling camping furniture online is more profitable than ever. Do some preparation ahead of time and start dropshipping.
As an eCommerce fulfillment service supplier, Honest FulPhilment provides services for sourcing products in China. All of the above products can help you find the best price. Welcome to contact us.
Best Camping Furniture FAQ
What else do outdoor activities include?
Besides camping, outdoor activities include road trips, excursions, outdoor adventures, picnics, summer surfing, fishing, skiing, and more.
In addition to furniture, what sub-categories does camping gear include?
Camping clothing, camping cooking utensils, camping lighting(hand lamp, headlamp), camping tents (tents, sleeping bags, sheets), camping backpacks, camping supplies (toothbrushes, cups, spare batteries), emergency medicines, etc.
What to look for when buying camping gear?
Consider first where you will camp. If it is urban camping, the equipment can focus on leisure and enjoyment. When it comes to country camping, the comfort of your gear is paramount. Also, consider your preferences. And consider the weight, fabric, design, etc. of the gear.
Need a Quick Quote?
– Competitive price
– Quote within 24 hours
– 30+ Shipping methods
– Dedicated account manager
– Shopify/Woo integrations
– Autofulfil
– Auto tracking
– Plus much, much more