How Do You Find a Sourcing Agent for Dropshipping?
Dropshipping is a great way to get into the e-commerce space and start making money, and sourcing agents can offer more benefits than dropshipping suppliers.
But to take advantage of these benefits, you need to find a sourcing agent first.
In this article, I'll show you five tips for finding a quality sourcing agent for dropshipping through whom you can create a successful business.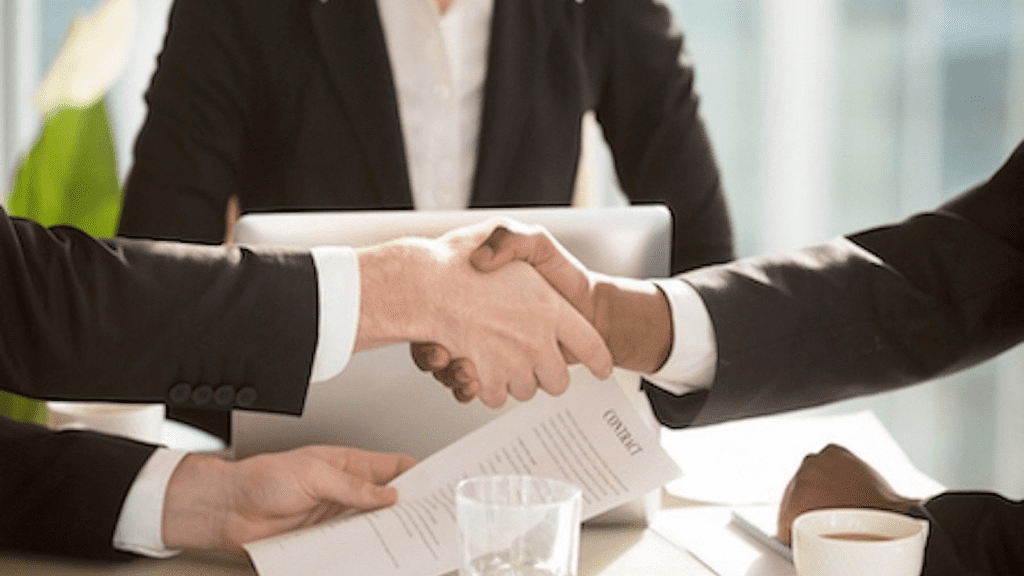 What is a Sourcing Agent?
A sourcing agent is a person or agency that represents a buyer to source commodities, and buy products that are out of the buyer's reach. They are often needed in international trade.
Traditionally, a sourcing agent is only to source suppliers for his client. Indeed, the services provided by sourcing agencies can include selecting the right supplier, making price negotiations, following up production, quality control, product compliance and testing, shipping, etc.
4 Reasons to Use a Sourcing Agent
Whether you're a beginner or an experienced dropshipper, whether you own a small business or a large corporation, using a sourcing agent is always a good idea. Here are some of the advantages of working with them.
Better price
A good sourcing agent will have the network and skills to find the best quality version of your product at the lowest price. That will definitely help you to beat your competition!
Faster shipping times
An experienced dropshipping agent will know exactly which shipping methods are the best for each country. Often, these will be shipping methods that typical dropshipping suppliers like AliExpress don't offer.
Gain insight into the latest trends in the industry
When working with a sourcing agent, they can keep you informed about current product offerings for sale, among other things. In addition, your agent will alert you to upcoming events, such as the Lunar New Year.
1-on-1 contact
Whenever you have any questions, you can easily contact your sourcing agent through platforms like Skype, Whatsapp, or Telegram.
How to Find the Best Sourcing Agents for Dropshipping?
This is important since you cannot dive into the market without any knowledge or strategizing about what you need. This assessment will give insights into the product market to focus on, the location to concentrate on, the target segment to connect with, etc. All these elements are necessary to be defined since your sourcing agent can only be recruited when you're able to relay these insights.
Setting your budget is another important factor and you need to know that every company in the market has its pros, cons, and costs. You need to make sure that you set aside some amount for adverse situations when developing your budgeting strategy.
Choose the Sourcing Agent 
As you delve into the market, you will find several companies that will offer procurement services in your preferred field. Pay close attention to assessing their ability to do the job; we all know that a small ignorance can lead to a wrong choice, which in turn can affect the whole process.
This will enable you to relay information to different sourcing agents, and then you can compare the details of these sourcing agents and choose the one you like the most according to your needs.
This will allow you to know what offer is right for you and what you can do to negotiate the price with the sourcing agent. By checking the license number, you can get a clearer picture of this company and help save time and resources needed in the evaluation phase and be able to choose quickly.
Once you have compiled a list of the most suitable candidates to act as a sourcing agent, it is time for you to negotiate on the monetary side. You need to evaluate and select the payment method that the sourcing agent agrees to. Also, evaluate the overall payment strategy, keeping in mind the overall budget you have set.
Write Down Everything That Was Agreed On
Finally, you need to write down everything you have agreed to in the contract, by which you can guarantee that you will not lose your rights, such as payment issues, quality differences, etc.
5 Tips to Find the Best Sourcing Agent
Now that you know the basics of what a sourcing agent does, let's get into our list of five tips to find the best sourcing agents.
Search on Google
One of the easiest ways to find a sourcing agent for dropshipping in China is to do a Google search. Simply type dropshipping agent, top dropshipping agent, or top dropshipping sourcing agent into the search box and click through. For each of these keywords, you will receive millions of results.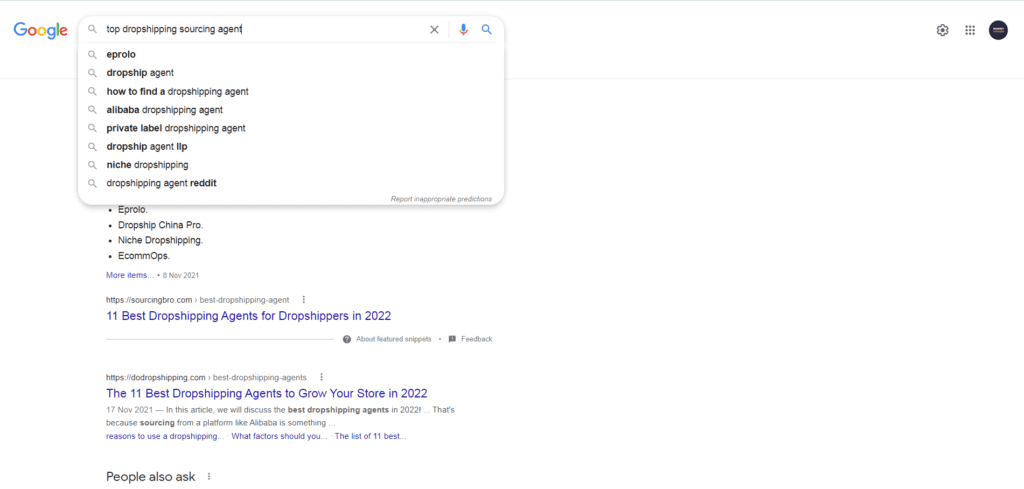 Observe which names appear at the top of the first page, millions of shippers have taken advantage of the best shipper agent solutions and therefore their higher rankings are relatively reliable.
Join Facebook Sourcing Agent Groups
You can find sourcing agents in the Facebook group. There are many sourcing agents. You can use the keywords "sourcing agent/ sourcing supplier" to search for the group, and then apply to join.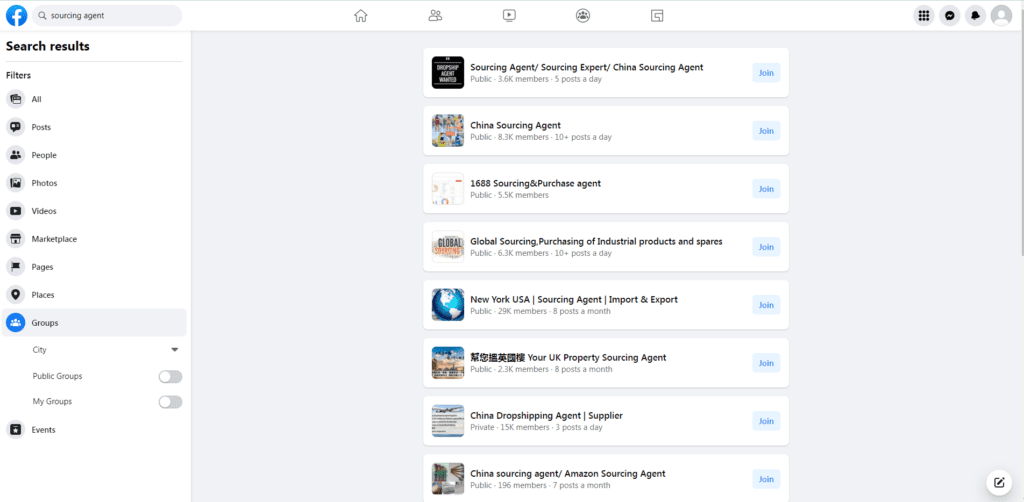 After joining a Facebook dropshipping group, you can find a sourcing agent for dropshipping in two ways.
First, you can post yourself and ask other members if they can recommend a good private agent. By doing this, you will not only reach other resellers who have extensive experience with their resellers but also the resellers themselves.
That's because sourcing agents also like to join these Facebook groups to find new customers. All of this sounds good, but if you're looking for a sourcing agent, remember to be vigilant. Theoretically, everyone can call themselves a sourcing agent in these Facebook groups, so beware of people who want to scam you.
Post on Reddit
Reddit is a huge collection of various communities based on people's interests. In these communities, people can share news, ask questions, and more. Like Facebook, you can find a number of communities on Reddit about direct marketing.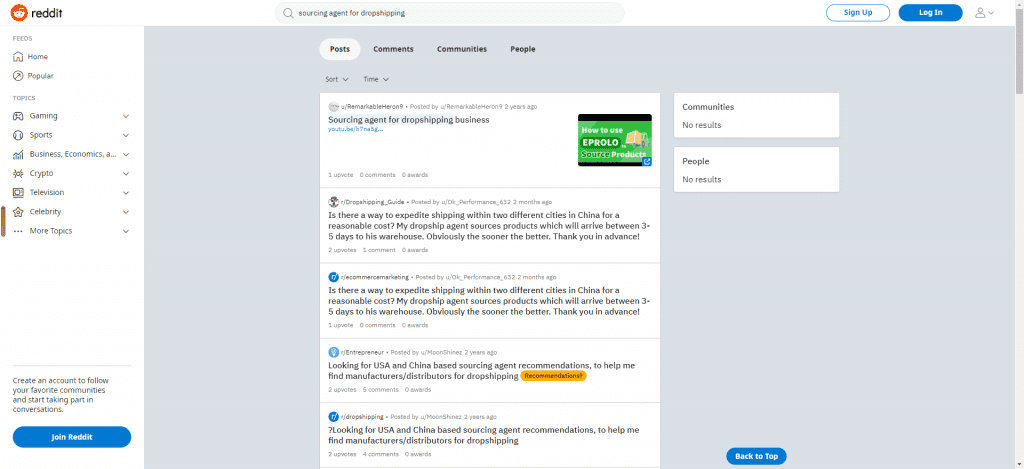 One of the largest is the subreddit "dropship". If you are looking for a sourcing dropshipping, you can post there and ask others if they can recommend a good one for you. Or, you can check out other threads that have asked the same question and you'll find good advice on sourcing agents for dropshipping in those threads.
Explore Sourcing Agents on Upwork
Many sourcing agents like to list themselves on Upwork. By doing so, they make it easier for customers to find them. You can find many dropshipping agents on Upwork by simply typing "dropshipping agent" into the search bar.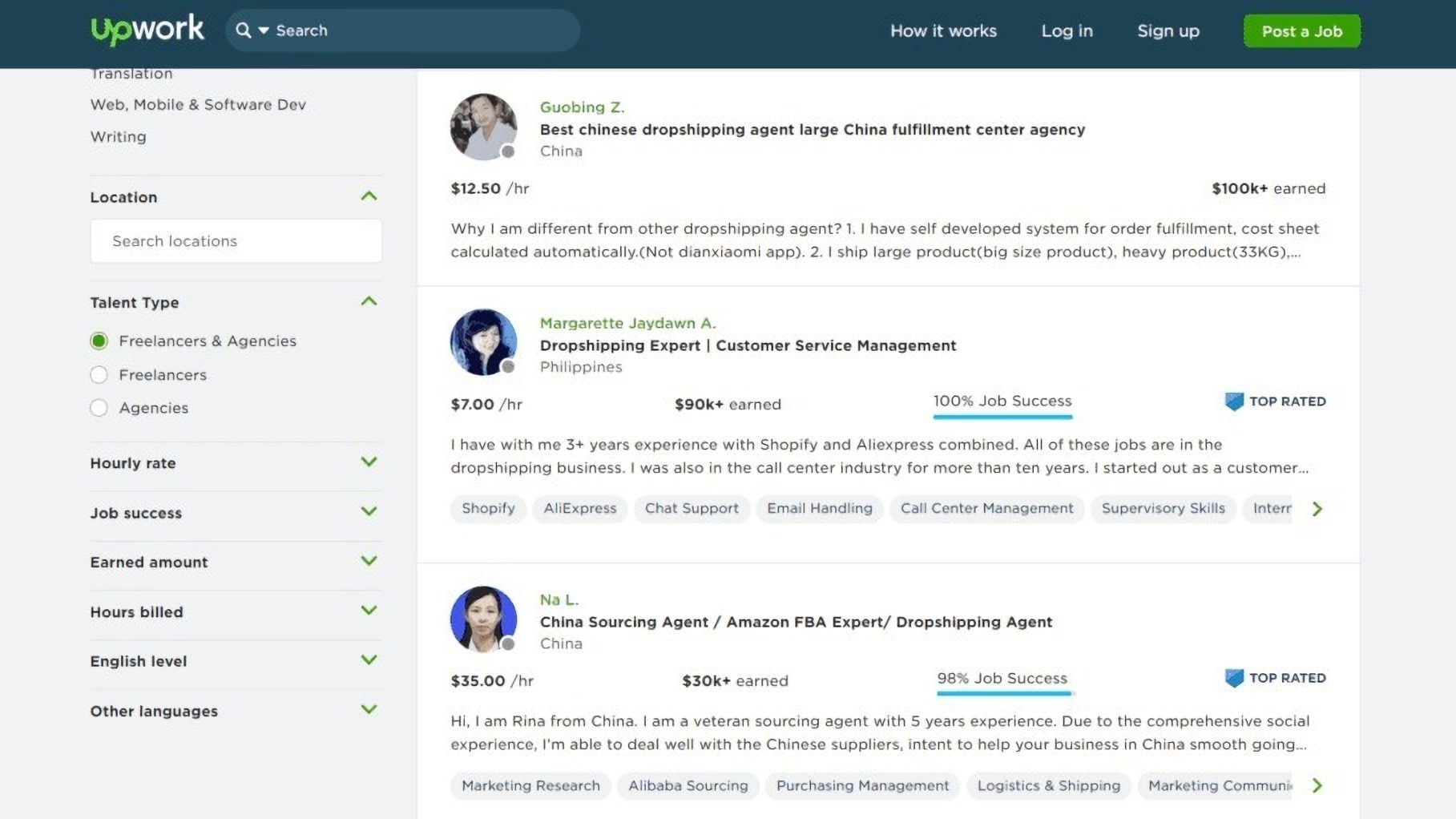 In contrast to finding sourcing agents in Facebook groups, on Upwork, you will be able to see each agent:
In addition, you will see a list of descriptions of each job they are working on and have completed in the past.
Another amazing feature of Upwork is that you can pinpoint by location, so if you are looking for a direct sales agent in China, you can select China for location.
Use a Dropshipping Supplier that Offers Sourcing and Fulfillment Services
This last tip is slightly different from finding and working directly with a dropshipping agent. Typically, a dropshipping supplier will only:
However, some dropshipping suppliers offer additional services, such as helping you source products.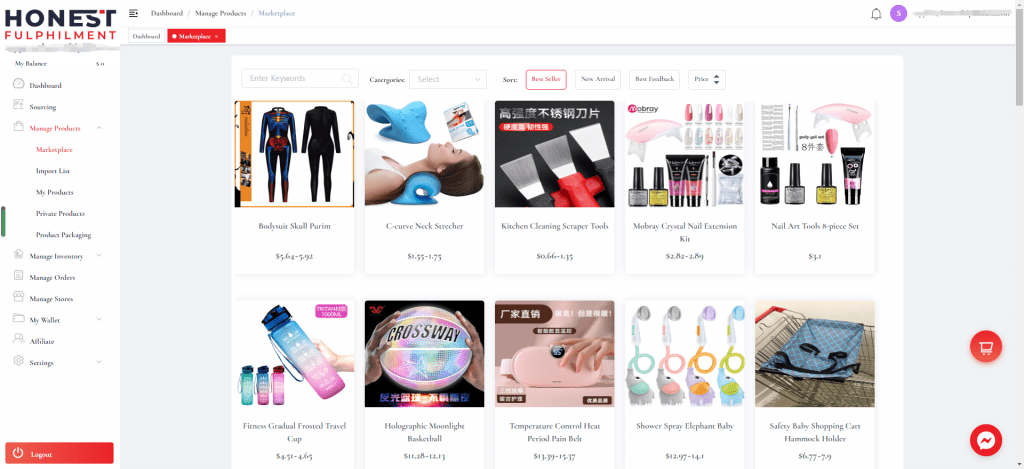 HonesFulphilment is an example of a dropshipping supplier that offers such services, offering "dropshipping agent services" in addition to products for almost all niches and having warehouses in different parts of the world, for example.
As you can see, these are already most of the things that a dropshipping agent does. The only thing that you might miss out on is the use of "special" shipping methods that a dropshipping agent may use like YunExpress or 4PX.
What Should Consider before Working with a Sourcing Agent?
Now, if you are looking for a sourcing agent for your store, this is something you need to consider when picking a sourcing agent.
Transparency
A good sourcing agent will keep you informed and keep you informed of new updates. They will do their best to help you get the best results and grow your business. Transparency is a key element of professionalism and effective communication. Without transparency, there is a high risk of conflict later on.
Experience
How do you know a sourcing agent will have the knowledge and network to source products for dropshipping? Well, you can check their experience in this field. Check out the agent's profile and read customer reviews or case studies. You will be able to know if they have a proven track record to understand your business and give you professional advice.
Customer Service
Without good customer care, the sourcing agent will never be a good agent. They should have a highly supportive customer service team that helps customers as soon as issues arise to ensure a smooth process.
Conclusion
Finding the best sourcing agent for dropshipping is not easy, but it is not difficult because most of the popular sourcing agents can meet your basic needs for dropshipping. You just need to judge the category, price, delivery, and additional services to choose the most suitable one.
If you want to learn more about how to work with Honest FulPhilment for dropshipping, contact us for 1-on-1 account manager assistance. We are ready to be your best partner to make your business more successful!
What are seven steps in sourcing?
Need a Quick Quote?
– Competitive price
– Quote within 24 hours
– 30+ Shipping methods
– Dedicated account manager
– Shopify/Woo integrations
– Autofulfil
– Auto tracking
– Plus much, much more